Approximately 200 companies and organizations are members of BIM Alliance, representing real estate owners, architects, technical consultants, contractors, building material suppliers and software companies. Operations are financed by members´ contributions and work of members who are actively involved in networks, projects, workshops and seminars.
BIM Alliance promotes implementation, management and development of common open standards, processes, methods and tools, aming towards the best possible IT tools and open standards that are utilized to stimulate effective processes within the built environment. BIM Alliance was formed in January 2014 through the merger of the former organizations OpenBIM, fi2 Facility management information and buildingSMART Sweden.
Contact
Please contact us if you have questions or inquiries.
---
TOOLS
To mention a couple of tools accessible as a member of BIM Alliance:
National guidelines
National guidelines are a toolbox of best practice and established rules.​ It is also a community to spread and develop digital behaviour.​ The platform gives you:
Web access to terminology, standards, process and delivery specifications​
Tool for publishing organization's customized guidelines​
Built on info-pack platform​
Subscribing members ​
Implementation partners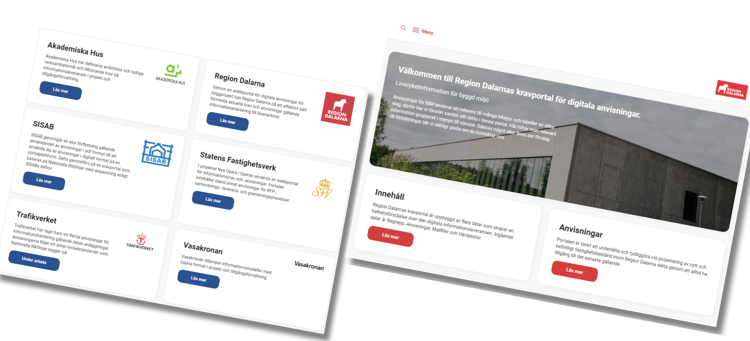 Read more about the national guidelines (in Swedish)
---
The standard map
The standards map is a clickable overview of BIM standards. Here you will find answers to which BIM standards are included in the various process steps and how they affect you. The standard map:
Contains a selection of standards from phase or role​
Contains international as well as national sources​
Each standard briefly described​
Links to standards and further reading​
Maintained by the technical advisory council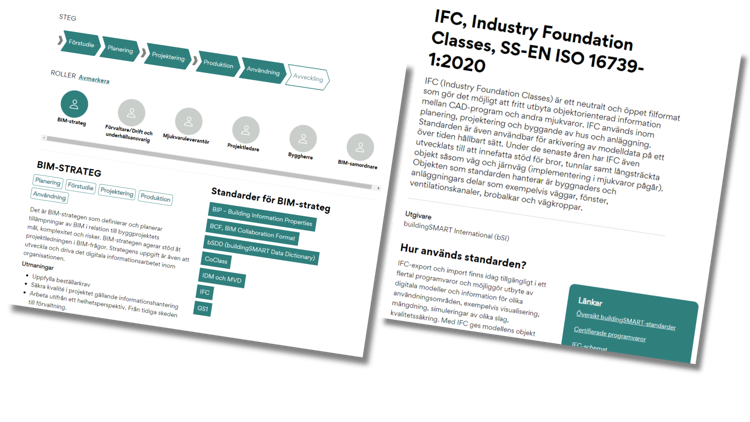 Read more about the standard map (in Swedish)
---
buildingSMART Sweden
buildingSMART Sweden is the Swedish part, called Chapter, of buildingSMART International, a worldwide industry body driving the digital transformation of the built environment by the creation and adoption of open, international standards and solutions for infrastructure and buildings.
The mission of buildingSMART is to create and maintain open and reliable digital standards for the built environment and support their global adoption.
The vision is to achieve a seamless exchange of trusted information across the built environment.
buildingSMART Sweden is leading the development and implementation of openBIM® standards and tools according to the mission and vision on a national level.
buildingSMART Sweden - part of BIM Alliance
buildingSMART Sweden has its home within BIM Alliance and through the membership with BIM Alliance you also get access to buildingSMART.
The purpose of buildingSMART Sweden is to improve productivity, sustainability and profitability over the life cycle of the built environment using open information standards and services. This is done by:
Promoting the use and implementation of openBIM standards such as IFC and IDS.
Participating and educate BIM Alliance interest groups regarding openBIM.
Influence authorities and government administrations to include openBIM in requirements for the built environment.
Involve Swedish companies and organisations in bSI Awards program.
Contact Peter Axelsson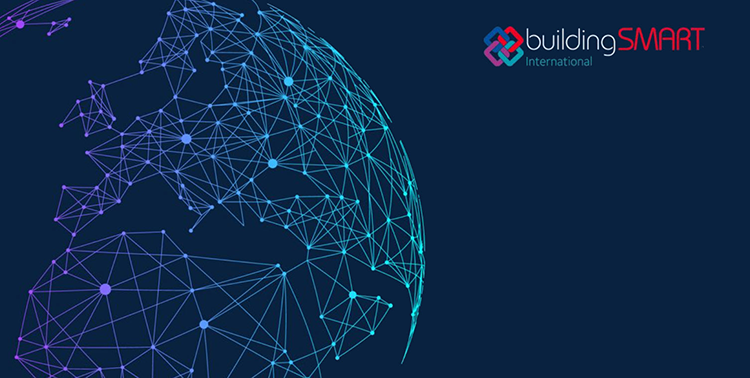 As a member of the BIM Alliance and buildingSMART Sweden, you get access to:
An international network of experts and users of openBIM standards and tools.
Events on a national and international level covering BIM related issues.
The possibility to influence industry standards and policy. As a member, you can participate in shaping new standards, impact policies and regulations.
Implementation support and certification.
Cooperation between the Nordic countries
We also have a collaboration between the Nordic countries. Nordic BIM Hub is a network for collaboration between the Nordic chapters within buildingSMART International and the national associations where there is no chapter. The purpose is both to get a stronger common voice within buildingSMART through coordination and to share experiences and knowledge regarding development and implementation of standards and other BIM-related issues.
Read more about buildingSMART (in Swedish)